Welcome back to The Daily's Alumni Q&A Spotlight series! Join us as we sit down and catch up with Daily alums on what they've been up to since their newsroom days, and reflect on their time at the paper and the role it played in their lives + careers.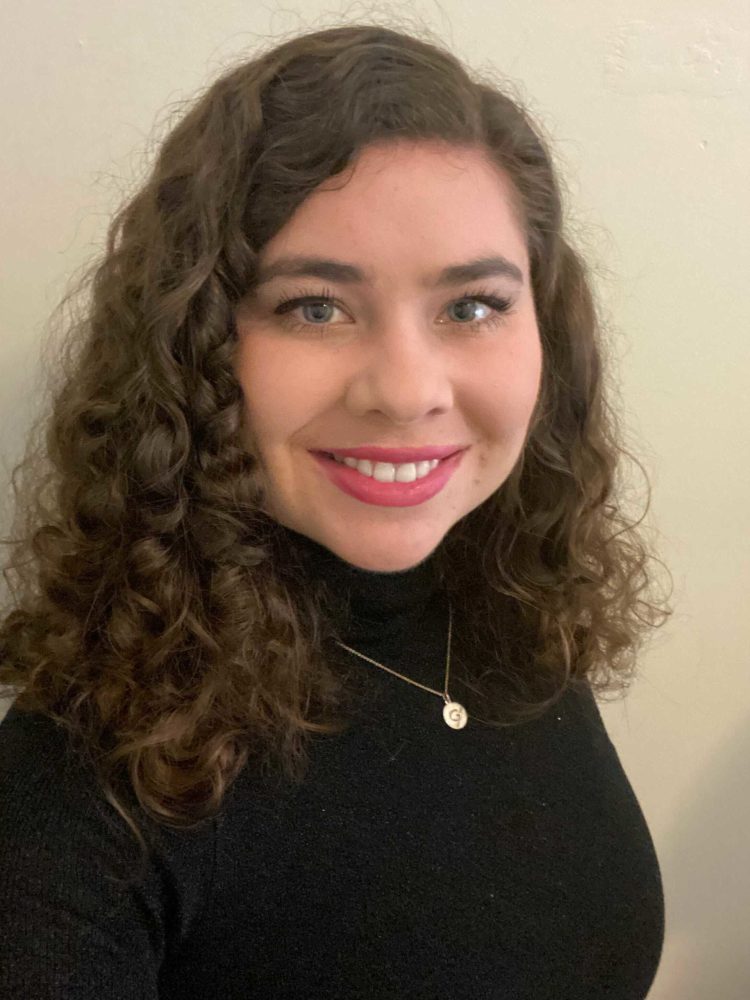 This month, we're joined by Gillian Brassil '19, M.A. '20 is a Sports Fellow at The New York Times. She recently covered the NCAA basketball tournaments on the ground in Indianapolis and San Antonio. She has also written about widespread accusations lodged at synchronized swimming coaches, Serena Williams' and Naomi Osaka's social justice advocacy and the ways that sport and the coronavirus pandemic have impacted one another. She previously edited for Business Insider. At The Daily, Gillian wrote and edited for news, contributed to The Daily's magazine and served as the staff development director for three volumes. Read on for our conversation on all this and more.
This interview has been condensed and edited for clarity.
Note: This Q&A contains references to a story about suicide which may be troubling to some readers. We've included a list of resources for students at the end.
The Stanford Daily (TSD): Can you tell us about how you got into journalism and how you found your way to The Daily? Were you always interested in writing and reporting?
Gillian Brassil (GB): I've always kind of been fascinated with journalists and kept up with current events even in elementary school. I used to print something called The Brassil Times when I was 10 or 11. It's very dorky, and not economically viable. But then growing up I had the opportunity to share my story as a synchronized swimmer with local journalists, and I always asked them how they'd gotten to doing what they did. I loved the idea of always being able to learn in my job — and especially to learn about other people and write about them. I knew I wanted to be a writer before I wanted to be a journalist.
So I knew before I got to Stanford that journalism was a career path I was interested in, but I didn't actually join The Daily until spring of my freshman year, because I was an athlete and I didn't think I had enough time. Throughout my childhood, my sport had always come first, so I'd never actually tried reporting or writing recreationally. I have to thank one of my friends from my freshman dorm who, when I told her during the offseason that I wanted to be a journalist but that I hadn't joined The Daily, she said to me straight up that there was no reason to not try, and she made me submit an application for it. So I joined and I wrote my first story about the ambassador to Libya coming to Stanford and I was sold on journalism. And then that was the end of that.
TSD: Do you have a favorite story you worked on at The Daily?
GB: That's hard. I've enjoyed a lot of them, but I think my favorite is actually one of my last ones that I did for the magazine. That could also be because it's just fresh on my mind having worked on it for so long — I worked on it for most of my senior/master's year here. But it was called 'Where do Stanford students go if they've attempted suicide?' — So, I guess a bit of a topic warning about self-harm, and if you or a loved one is contemplating self-harm there are national and local resources and campus resources to help, you know, every life is valuable.
But the feature was on one student who had been 5150'd, which is when you're taken against your will when deemed a threat to yourself or others and hospitalized and monitored at the hospital for at least 72 hours. And when this happens to students on campus, for the most part you're brought to a high-security psych ward of the Stanford Hospital. And then through data reporting and on-the-ground reporting on my part, I unveiled that at least one to three students were occupying that ward every week.
And that's really high, like, one person a week is at least 52 a year — I mean, of course there might be students who are being 5150'd more than once before they actually force you to take a leave of absence — but this is only students who are 5150'd when they're on campus grounds.
Plus there are other wards students can get sent to throughout the Bay Area when this happens — when the ward is full, I should say, which is pretty often — so that one-to-three-student estimate that I found was actually underestimating that value. And lacking resources for mental wellbeing, that's a serious issue, and it's been talked a lot about in recent years on campus where students have asked for more support. Even when they can get it in an affordable manner at CAPS, the waiting period is extremely long. So that story dug deep into that situation as well as the process of being 5150'd, which people don't talk about too much. Students are handcuffed, they're transported in the back of a cop car and they can't reach out to people who are concerned about them for hours until they're actually in that ward, and then they can communicate from that ward. I heard from the process of doing that reporting that students felt like it added another layer of trauma for someone who's already seeking help. It was a hard story to write and very difficult to hear those accounts, in many ways, but it was important and it shed a light on an issue that's still being talked about.
TSD: How did The Daily prepare you for a career in journalism, and in sports journalism specifically?
GB: Oh goodness, I mean, I think everything I know about journalism I have to credit to having worked at The Daily in some way. The skills I picked up there helped me land my first internship: writing briefs, chasing stories on various different things, working as a desk editor for a few years and then balancing school and swimming, that taught me how to focus and compartmentalize. And like, [The Daily taught me] to keep in mind, be open to all possibilities when it comes to how a story might turn out, like don't have any preconceived notions. So I learned all that there, and journalism is really learning by doing.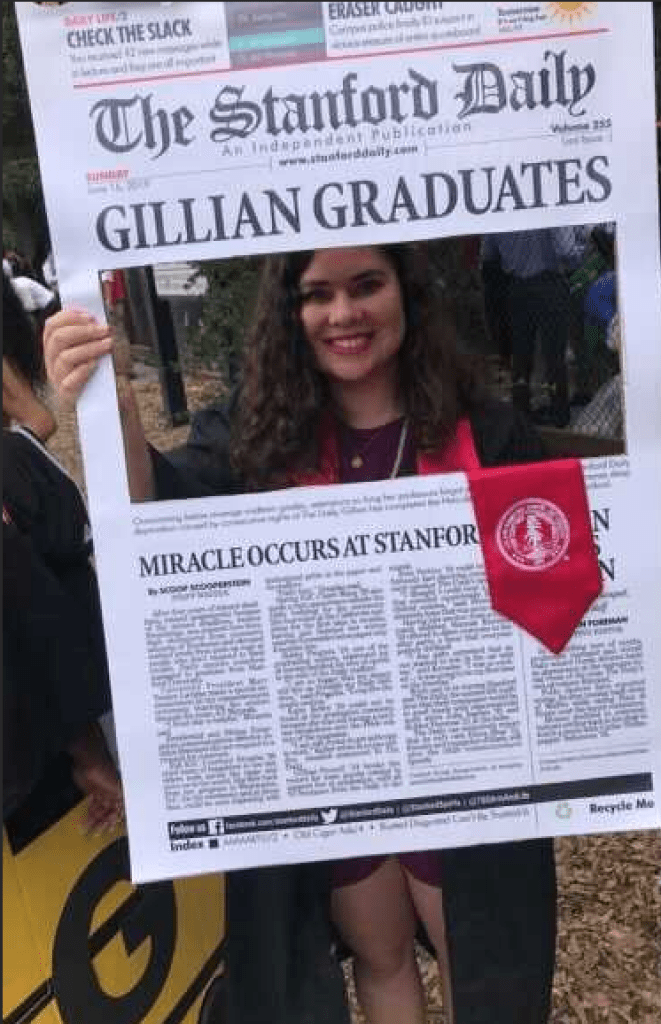 So doing all this stuff at The Daily from interviewing, balanced sourcing, writing headlines, working with new journalists through staff development. I wouldn't be here if I hadn't done all of that through The Daily. And then sports journalism specifically: Through staff development I'd worked across sections — I worked with every section, every new staffer who came into The Daily. I had the opportunity to teach in a big session as well as individually if people reached out, so I worked a little bit with sports. And then I ended up writing about my own experience in sport at the end of my time at Stanford. So I guess that's where that came from, I think, balancing swimming and The Daily is what brought me into sports journalism today. I just remember coming from practice, my hair dripping down my back, biking to the Daily building to hold my desk editor meeting throughout my sophomore year. The collision of those two worlds has been very very special for me here, in the post-Stanford life.
TSD: Do you have a favorite story that you've worked on as a professional journalist?
GB: It's hard for me to pick a singular story that I've done, but there are two broader subject areas that I've worked on recently. The first one: I spent a few weeks covering the NCAA Women's Basketball Tournament in San Antonio and that was my first big in-person reporting assignment since the pandemic accelerated in March of last year. So that was a big already to begin with, for me, being able to be on the ground.
But there are a lot of rich narratives to cover there, from what it's like to play in a tournament during a pandemic after there was a two-year gap since last year's tournament was canceled, to the discussion around inequities between men's and women's sports that was highlighted by differences between the weight rooms and COVID testing and court setups and meals that they were getting at each tournament. I had actually been in Indianapolis at the start of the men's tournament, so I kind of had a unique perspective on some of those stark differences. I got to see a lot of them firsthand. And then I got to cover Stanford and coach Tara Vanderveer and they won their first title in 29 years. So it was really exciting to be there in that room. And for Stanford in particular, after the year that they'd had on the road a lot, because of the pandemic, it was really special to see them take that home.
And then the second coverage area that I've spent a lot of time in that I've really enjoyed — enjoyed because of the impacts that I've seen and the importance of doing it, not necessarily because it's been a cakewalk, because it certainly hasn't — I've been covering the anti-transgender legislation, which is aimed at barring transgender athletes, mainly women and girls, from playing in sports divisions that match their gender identity across the United States. It's the biggest push that that we've ever seen for that sort of legislation and there have already been five states, across Idaho South Dakota, Arkansas, Mississippi and Tennessee, as of this interview, that have signed this legislation, either through bills or executive orders to bar these transgender athletes from competing on sports teams that match their gender identity. And there are a lot more considering it, a lot more states and legislators. So I've published a few stories in the past year along with other colleagues about barriers transgender athletes face to compete, not only in the these states but in international sports leagues as well as, you know, what is actually biologically different between a transgender athlete and a cisgender athlete? And I feel like that coverage, while it's hard to talk about a lot and is painful and traumatic in a lot of ways, has been able to answer a lot of questions about, why are so many of these mainly Republican legislators considering these bills, and what are some of the challenges transgender athletes face, and what happens when someone undergoes hormone therapy, how does that affect their athletic performance? So I'm glad to be working on that for the greater good.
TSD: What's next for you? What are you most excited for, job-wise or otherwise, in a post-pandemic future?
GB: I don't really know what's next for me. I have another month in the fellowship. So, in the immediate future, in this next month there are a few more sports stories here that I'm excited to publish, that I'm enjoying working on. I think journalism is definitely in my future. I wake up every day and I look forward to the work I'm doing, so I think I'm on, at least for now, the right career path, but times change and people change.
Hopefully I get to do more reporting in-person because reporting remotely is a lot harder than being in a place and seeing something firsthand. And then just in life beyond journalism, I'd like to start swimming again. There [hasn't] been a lot of pool space during the pandemic, especially on the east coast where I'm based, so I look forward to being able to put on a nose clip for synchro and get in the deep end again. But, you know, still, wear a mask, get the vaccine, we've got to keep each other safe and not rush into doing any of that until the public health officials signal that we can do so safely.
TSD: To close out our conversation today, can you share your favorite memory from your time at The Daily? What does The Daily mean to you?
GB: I have a lot of good memories, a lot of good memories from The Daily. So I did staff development for, I think, two years. And I worked with people who are new to journalism and The Daily, and really watching them grow and get excited about things that I was excited about was super rewarding. That's not really a specific memory but that's something that I always enjoyed. And then we did a high school [program], one when I was a senior and one while I was doing my master's, and I enjoyed seeing those young students igniting their passion in that space. And, of course, good memories at production at night, working on election coverage one year, that was fun, running around campus seeking out stories related to that. Just any cross-section collaborative breaking news where everyone was in the Daily building and, you know, tensions were high but people were excited and excited about journalism, that was really fun. And then, what does The Daily mean to me? It means a lot. I mean, I thank The Daily for kickstarting my career and for creating a network of just incredible humans, some who have or will go on to do journalism and then who who won't — everyone is just dedicated and hardworking, talented people, and I look forward to seeing more former Daily staffers grow alongside me in the post-Stanford life.
If you are in crisis, call the National Suicide Prevention Lifeline at 1-800-273-TALK (8255), or contact the Crisis Text Line by texting TALK to 741741.
The Santa Clara County Mobile Crisis Response Team sends counselors alongside crisis intervention-trained officers to de-escalate nonviolent mental health crisis situations. The crisis counselor who answers your call will collect information about the situation and determine if the Mobile Crisis Team can respond. You can call the Santa Clara County Mobile Crisis Response Team at 1-800-704-0900, option #2. The line is live 8am-8pm, and staff will return calls after 8pm! For students under 18, call the Uplift Mobile Crisis Team at 408-379-9085 or 877-412-7474.
The Bridge Peer Counseling Center offers anonymous peer counseling for students regardless of location. The Bridge is open 3 p.m. — 12 a.m. PT daily. The Bridge Home Page has more instructions for accessing this service during the pandemic.
CAPS offers a range of services, including individual therapy and therapy consultations for students in California. For students outside of California, CAPS can also offer support for real-time needs and care management consultations to help arrange for local support if needed. CAPS also has a 24-7 support line for urgent needs: 650-723-3785. The CAPS FAQs has more information on its services during the pandemic.
Contact The Daily's alumni engagement team at alumni@stanforddaily.com.